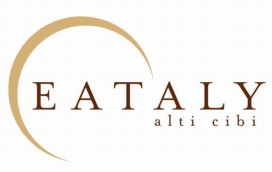 If you're looking for something food-related to do in New York - as if there weren't enough options already - you need to go to
Eataly NY
. Eataly NY is a vibrant Italian marketplace located near Madison Square Park that brings the notion of chain stores to a new level. With
several locations already in Italy and Japan
, Eataly is the latest venture by chefs Mario Batali,
Lidia Bastianich
(probably the coolest lady ever - I don't know her at all, but feel like I do from her TV show and want her to somehow be my long-lost Italian relative...), her restaurateur son, Joe, and founder and creator Oscar Farinetti. It brings together all the essentials of one-stop, fresh shopping: seasonal and specialty produce (and a mushroom section that will make you drool), cheese shop, homemade and dry pastas, butcher, rotisserie, fish-monger, beer and wine, chocolate, gelato, coffee, teas and other specialty items. If snacking becomes a little too overwhelming, try any of the number of
restaurants
tucked into and around the marketplace. I'd recommend
La Pizza and La Pasta
for a quick bite.
Mushrooms @ Eataly (many from the U.S.)
The real reason why I was totally enamored with Eataly? (And, no, not because I almost walked right into Jimmy Fallon - NBD...) You can see, smell and taste that this place believes in good, REAL food. The
partners
of Eataly NY have teamed up with international advocacy and educational group
Slow Food
, which believes in "good, clean and fair food," to uphold the
primary tenants
of the eatery. While the crux of Eataly is, well, Italy, it sources and sells many local food products, including
Ronnybrook Farm Dairy
. AND a ton of the pasta, bread and pizza dough made on site is made from grains grown and milled at
Wild Hive Farm
in Clinton Corners, NY. If you want to do more than eat, I guess you could take classes from Lidia herself at the
cooking school
... amazing!
I've never been to Italy, but can only dream that the concept for the store was based on the farm and street markets there. I can tell you that having all these options under one roof reminded me of the Borough Market in London. (I was lucky enough to go to the UK last fall for a month, so before you call me an elitist or pretentious, it was the most frugal trip you can imagine. I'm defending myself for the sake of the next sentence.) If you're on a budget like me, it's a perfect place to people watch, look at interesting products and spend as much or as little as you want on food. Eataly NY will transport you, even if for only a few hours. My description doesn't do it justice - just go.
Bonus: If it's good weather, burn off some calories or take your lunch or snack with you to walk to the
High Line
.
**
Eataly NY
: 200 5th Avenue, New York, NY 10010 (entrances on 5th Avenue and 23rd Street). Market hours: 10 a.m. - 11 p.m. everyday. More contact information is available
here
and check the
site
for info. on respective restaurant hours.