I embarked on a
plastic-free experiment
a few months ago and imagined a place where you could buy good, sustainable food without packaging. Sure, you can certainly buy produce, eggs, dairy and the like at farmers' markets, and co-ops, small health and specialty food stores have their bulk sections and you can always bring your own containers, but even they can generate a lot of waste.
But, my dream has come true, or will, very soon (Fall 2011) in the form of
in.gredients
of Austin, TX:
What is
in.gredients
? Here's the story:
We're Brothers Lane - i.e. Christian, Joseph, and Patrick Lane, three brothers who have a knack for innovation + business sense and a passion for promoting sustainable living - plus Chris and Brian, who don't have Lane blood but share the same passions.




For years we've been finding ways to live more sustainably. After realizing that waste is actually just a human invention, we've each started home gardens; we compost, recycle, and more importantly re-use as much as possible, weeding out unnecessary waste. We've been able to reduce over half the waste our households generate, with only one major hurdle: groceries.


While we reuse food containers / packaging all the time, we still have to buy more food packaging at the store because it's unavoidable. While we can use reusable bags for produce and carrying things, we can't (legally or in a way that's socially acceptable) get cereal out of cereal boxes or household cleaners out of bottles to take home. Because of this, a majority of the waste and recycling streaming through our homes is unnecessary, since we could have brought our own containers to the store to fill them. Of the 1.4 billion pounds of waste landfilled per day in the US, 560 million pounds is packaging - most of which is used just once, before another package is bought.


These alarming statistics upset us enough to set out to change things ourselves. Our project revolutionizes grocery shopping as we know it. Our goal is to reduce waste by ditching packaging altogether - creating the nation's first zero-waste, package-free grocery store! The community-oriented store (named "in.gredients") will (a) sell local, organic groceries, (b) host community events like cooking lessons, concerts, and garden days, (c) feature local artwork, and (d) promote sustainability. Most importantly, we'll allow customers to fill reusable containers (even ones brought from home!) with their groceries, making waste reduction easy, fun, and convenient! Think of it as Groceries 2.0. (Emphasis added.)
How awesome! I'm half-joking when I say that I'd move to Austin just to shop here and be a part of this...
If you want to see this project succeed, check out the
in.gredients
site here
, its
ethos
and how you can
help donate to or invest in
the initiative.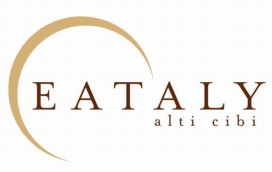 If you're looking for something food-related to do in New York - as if there weren't enough options already - you need to go to
Eataly NY
. Eataly NY is a vibrant Italian marketplace located near Madison Square Park that brings the notion of chain stores to a new level. With
several locations already in Italy and Japan
, Eataly is the latest venture by chefs Mario Batali,
Lidia Bastianich
(probably the coolest lady ever - I don't know her at all, but feel like I do from her TV show and want her to somehow be my long-lost Italian relative...), her restaurateur son, Joe, and founder and creator Oscar Farinetti. It brings together all the essentials of one-stop, fresh shopping: seasonal and specialty produce (and a mushroom section that will make you drool), cheese shop, homemade and dry pastas, butcher, rotisserie, fish-monger, beer and wine, chocolate, gelato, coffee, teas and other specialty items. If snacking becomes a little too overwhelming, try any of the number of
restaurants
tucked into and around the marketplace. I'd recommend
La Pizza and La Pasta
for a quick bite.
Mushrooms @ Eataly (many from the U.S.)
The real reason why I was totally enamored with Eataly? (And, no, not because I almost walked right into Jimmy Fallon - NBD...) You can see, smell and taste that this place believes in good, REAL food. The
partners
of Eataly NY have teamed up with international advocacy and educational group
Slow Food
, which believes in "good, clean and fair food," to uphold the
primary tenants
of the eatery. While the crux of Eataly is, well, Italy, it sources and sells many local food products, including
Ronnybrook Farm Dairy
. AND a ton of the pasta, bread and pizza dough made on site is made from grains grown and milled at
Wild Hive Farm
in Clinton Corners, NY. If you want to do more than eat, I guess you could take classes from Lidia herself at the
cooking school
... amazing!
I've never been to Italy, but can only dream that the concept for the store was based on the farm and street markets there. I can tell you that having all these options under one roof reminded me of the Borough Market in London. (I was lucky enough to go to the UK last fall for a month, so before you call me an elitist or pretentious, it was the most frugal trip you can imagine. I'm defending myself for the sake of the next sentence.) If you're on a budget like me, it's a perfect place to people watch, look at interesting products and spend as much or as little as you want on food. Eataly NY will transport you, even if for only a few hours. My description doesn't do it justice - just go.
Bonus: If it's good weather, burn off some calories or take your lunch or snack with you to walk to the
High Line
.
**
Eataly NY
: 200 5th Avenue, New York, NY 10010 (entrances on 5th Avenue and 23rd Street). Market hours: 10 a.m. - 11 p.m. everyday. More contact information is available
here
and check the
site
for info. on respective restaurant hours.