So I finally went to the
Coventry Farmers' Market
(
Sundays, June-October, 11-2; 2299 South St., Coventry, Conn.
) and it's a cool place. According to the market's site, nearly 63,000 people visit the market annually and it generates tens of thousands of dollars for the local economy. Not to mention, this market earns "best farmers' market" accolades from major media publications. It was the opening day of the market, located on the grounds of the historical
Nathan Hale Homestead
. Here's are some of my thoughts on the market in brief:
Pros:
a terrific roster of vendors, including, of course, favorite local farmers and producers AND crafters (I bought earrings from Paula Sandahl of The Beading Tree - they're beautiful!)
extremely enthusiastic organizers and volunteers
the market allows dogs (unlike many markets in the state that no longer allow dogs, including New Canaan and Greenwich) - all of who are amazingly cute and well-mannered.
the physical layout and flow of the market; there was more than enough space for people to enjoy themselves and shop comfortably
an impressive and diverse list of events for the season
Cons:
seeing Utz potato chips and Doritos for sale - I thought farmers' markets were not only meant to serve as an alternative to conventional foods but also as a means to boycott of these products!
it's such an excellent market - why is it only from 11-2?!
Another really cool feature of the market was the option to become
a friend of the market
: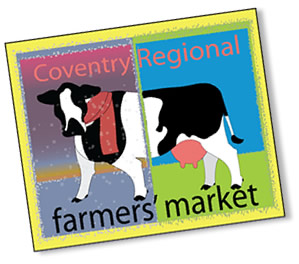 "In exchange for a $25 donation or 5 hours of work, a fan of our market can earn Friend of the Market status. Friends receive a special market logo pin identifying them as a Friend of the Market… and wearing it at the market is the ticket to special discounts, freebies, and opportunities all season long."
The pins are pretty cute and most of the vendors featured their special discounts prominently at the front of their tents. It's an excellent way to build a customer base and encourage people to attend the market throughout the season - definitely a model that should be used by other farmers' markets.
It took me over an hour to get to the market, but I will definitely take another trip to Coventry as the season progresses. If you're in the area or are looking for something to do on a Sunday, go to this market. It's a vibrant and fun place to shop and support local producers. For now, become a friend of the
Coventry Farmers' Market on Facebook
.